About
Sample Event


Join us on sample date


why

Chai Lifeline provides seriously and chronically ill children and their families with support and encouragement during
their most trying times. For two weeks of every summer, hundreds of children are granted the ultimate camp
experience in Camp Simcha, returning home with renewed hope, determination, and the thrill of simply being a
child rather than a patient.
| | |
| --- | --- |
| whaT | Bike4Chai is a premier cycling event for cyclists of varying skill levels. The enormous proceeds garnered by Bike4Chai directly benefit the children of Chai Lifeline. |
| when | Bike4Chai kicks off with an opening ceremony on Tuesday, August 15, 2017; riders depart in the early hours of Wednesday, August 16, and arrive to cheers and fanfare in Camp Simcha on Thursday, August 17. |
| where | The 180-mile Bike4Chai route winds through three states, challenging even the most advanced riders; the continual support leading up to and through the event, combined with the pure joy that greets the riders at the finish line, encourages riders of every skill level throughout the ride. |
Provisions
Riders partake in wholesome, delicious catered meals to maintain their energy throughout the event. The carefully curated menu satisfies every rider's palate, lifestyle, and standards at every stage of the ride – from the pre-ride Pasta Party to gourmet rest-stop fare to the much-anticipated post-ride BBQ in Camp Simcha
Every rider is fully equipped with everything he needs for a successful ride: two Bike4Chai jerseys, two insulated water bottles, T-shirts, Bike4Chai bags, and assorted Bike4Chai gear – to meet every need – throughout the event.
Every aching muscle earned on the grueling ride dissipates immediately upon arrival at The World's Greatest Finish Line. Every rider enters Camp Simcha simultaneously, greeted by a mob of cheering, exultant campers and staff member eagerly celebrating their arrival. The Bike4Chai riders are then treated to a celebratory BBQ, awards ceremony, and a front-row seat to the magic of Camp Simcha.
Simcha translates to "joy" – and joy is, appropriately, the very essence of Camp Simcha.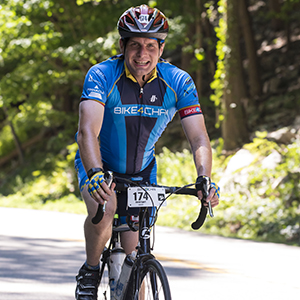 Humble Beginnings
In 2009, a solitary yet visionary rider named Dovid Egert, a devoted Chai Lifeline volunteer, raised $10,000 in donations sponsoring a 135-mile bike ride from his home in Lakewood, NJ to Camp Simcha in Glen Spey, NY. His revolutionary ride provided the children of Camp Simcha with the summer of a lifetime; it also sparked an enormous innovation in fundraising.

The next year, Dovid was joined by 39 inspired riders, and Bike4Chai was established.

This summer, hundreds of riders will participate in the 8th Bike4Chai ride, spanning three states over the course of two days. They will experience a cohesive, motivational ride through 180 miles of breathtaking scenery and incredible unity, triumphantly crossing a finish line like no other.