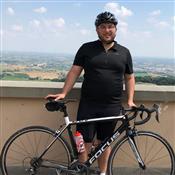 Edit in profile section
Joe Kamali's Bike 4 Chai Donation Page
Joseph Kamali |

Great Neck

, NY
Joseph Kamali
This August, I'll be doing my first Bike4chai!

I'll be riding 180 through New Jersey and Upstate NY to Camp Simcha to greet children battling pediatric illness who are trying to enjoy summer in camp.

Chai Lifeline is an incredible organization who goes above and beyond for families facing incredibly serious medical issues among many other things.

Please help me reach my fundraising goal by donating at the link below:

bike4chai.com/Joek

Any amount is very much appreciated!